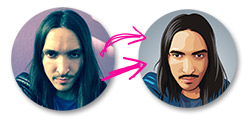 How do you need your cartoon?
Easily estimate the cost of your handmade cartoon by using this order form
and order your premium handmade cartoon today!
Only one last step! You will be redirected to Paypal. Thank you for your order! Only after your payment we process your order!
Cartoonify Premium is dedicated and passionate about creating awesome premium handmade cartoons of you, friends, family or your loved ones! We offer the ideal gift for every occassion like Birthdays, Weddings, Christmas, Mother's & Father's Days, Valentine's Day or just for fun! You can even use it as a special profile picture on social media channels or a website! The possibilities are endless. We're in a beta phase, we are working on a perfect solution. If something is not working or you are unsure at anything, please contact us here first. If you want to use our free cartoon maker please click here.
FAQ
Do you offer bulk orders?
Yes, please contact us if you want to order more than 5 cartoons. We can offer you a discount.
How long will it take before I receive my cartoon?
Regulary you receive your handmade cartoon within 8 working days. Alternatively you have the opportunity for an extra fast delivery (in about 3 working days).
What file will I receive?
Once your cartoon is done, we will send your handmade cartoon to the e-mail address which you will provide upon the checkout process. Your cartoon will be attached as a PNG file in the resolution 1191 × 842 pixels. After that you can use it right away for example on your social media accounts. Alternatavely you can order the source file (*.EPS), so you can make your own changes for example in Adobe Illustrator.
What is the best photo for cartoonizing?
For best results, please submit a high resolution photo (at least 1000 pixel) of the entire face including hair, chin and other extremities (see an example above). You can even submit a half body for an extra fee. Please do not submit blurry or dark photos.
We do not include any backgrounds/scenes and do not accept photo's which contains nudity.
If you can't provide a high resolution photo (at least 1000 pixel) we will probably cancel your order and refund your money.
Refunds & Changes
Cartoonify offers no refunds for any handmade cartoons because of personalization. We inspect every digital item for accuracy and quality before it is delivered to you. Cartoonify will NOT be accepting major revisions such as: Cartoonizing a new photo, adding accessories and other parts that are not in the original photo, design/formatting. If you still need minor revisions please contact us.
Will my cartoon appear in your examples?
No, your data and the image are safe and will not be published without your permission
Who can buy a handmade cartoon?
Our handmade cartoons are for everyone above 18 years old with a valid Paypal account! Please do not submit images if you are under 18 years old. We won't process the order and delete your data.
Some of our examples
Cartoon Style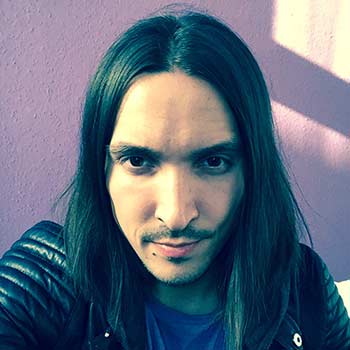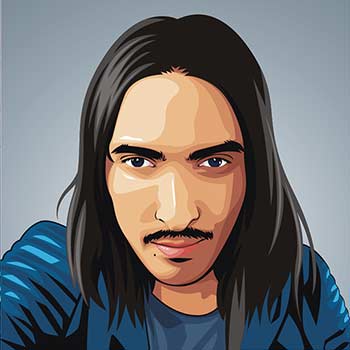 (head to shoulder)